WixLi Gateway is able to manage each luminaire through ZigBee network : commissionning, set-up parameters, agendas schedule programming, luminaires real time remote control , electrical data measurements reportings, alarms and diagnostics management through e-mailings. Gateway communicate with 3G or Ethernet with a dedicated external or internal server which is in charge of data managements and savings.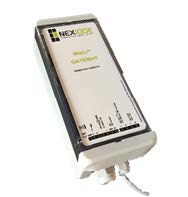 Gateway WixLi can be fitted on in the electrical cabinet or any support with AC power supply and  can manage ZigBee network luminaires.
Through 4G or Ethernet connexion with secured VPN, Gateway  transmit data reportings to a server.
Lights groups

Energy consumption measurements

Time Schedule program

Wireless real time remote control

Diagnostic and report

Smart city platform

Sensor management

Light dimming
Technical characteristics
Normes :
EN300328
EN301489-1 &EN301489-3
EN62479
EN62368-1 :20014
Power supply :
AC 110-240 Vac
DC 5V-18V / 5W
Power consumption < 2W (Ethernet mode)
Class II (no earth)
Communication :
Wireless mesh ZigBee protocoI IEEE802.15.4
Frequency band 2.4GHz ( TX 8 dBm / sensibility RX -103dBm)
Radio range : until 120 meters
Ethernet or 4G
Electrical features :
Fit in cabinet or in the mast
Relay output for remote control from cabinet
Input logical management (sensor, door opening, etc..)
RS 485 (ModBus) interface to manage power meter or any
equipments.
Operatings condition :
Temperature : -30 °C / +80 °C
Protection class : IP66
WixLi gateway can be fitted in the electrical cabinet and powered by AC or DC supply and can manage luminaires mesh network through ZigBee communication.